Wendy & Kevin
Kevin's roots run deep in farming and agriculture.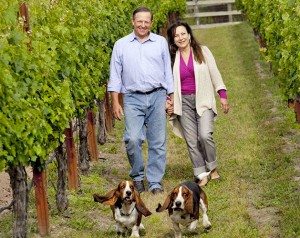 Born and raised on a 600 acre dairy farm in River Falls, Wisconsin, he is no stranger to hard work and getting his hands deep into the soil and working the land. The lure of California finally brought him directly to Sonoma County in the early eighties. He says, and I believe him, Sonoma County reminds him of the rural, idyllic landscape of Wisconsin… except for all the snow!
Wendy, a California native, born in Los Angeles and raised on Southern California beaches, was not attracted to farming AT ALL! Moving to Marin County in her teens, she was enticed into organic gardening. As an artist and dancer, Wendy is the consummate event planner. Her parties are legendary.
In the early 80's both Kevin and Wendy received calls from friends that a large winery had employment openings. Without any experience in wine, both of them took on the task of learning as much as they could about enology, viticulture and marketing of wine. They began to learn vine-growing techniques and wine making while entering and attending blind tastings to educate their palettes.
While Kevin and Wendy worked side by side for almost two years, they never actually met until a company Christmas party in 1985, where it was love at first sight and have been making wine together for 30 years.
They were married in 1990 and were producing their own wines under the small private label Two Morrows, earning several gold and silver medals as well as the Sweepstakes Award at the Sonoma County Harvest Fair for their 1996 Two Morrows Petite Sirah.
Over the years, visiting their friend's winery, Kevin would often sigh and say, "If we could just have a cute little place like this someday."  Then in a casual conversation at a party one evening, Wendy discovered they were thinking of selling the winery. Kevin and Wendy started the process of purchasing the vineyard and winery the NEXT DAY!
Kevin and Wendy produce wine in an old world and hand-crafted style but also utilize much of the modern technology available today.